For Sale

This section contains items for sale or wanted by ABC members or Bugatti enthusiasts around the country. Please contact the individual directly. The American Bugatti Club is not responsible for inaccurate descriptions, claims made by the advertisers or the condition of any item listed.
---
A new set of 4 tires and tubes, vintage Michelin "Cablé". 740 x 90 for clincher rims. Ideal for a Brescia. Call 650-329-9244 or email keoshian@gmail.com
---
New flywheel for a Type 37 or 37A.
Please contact Alan Rosenblum for additional details and price.
Alan Rosenblum
Blum Rose
41 Notre Dame Lane
Utica,New York 13502
315-735-9918 W
315-796-3237 C
315-797-0482 Fax
Grannys1@earthlink.net

---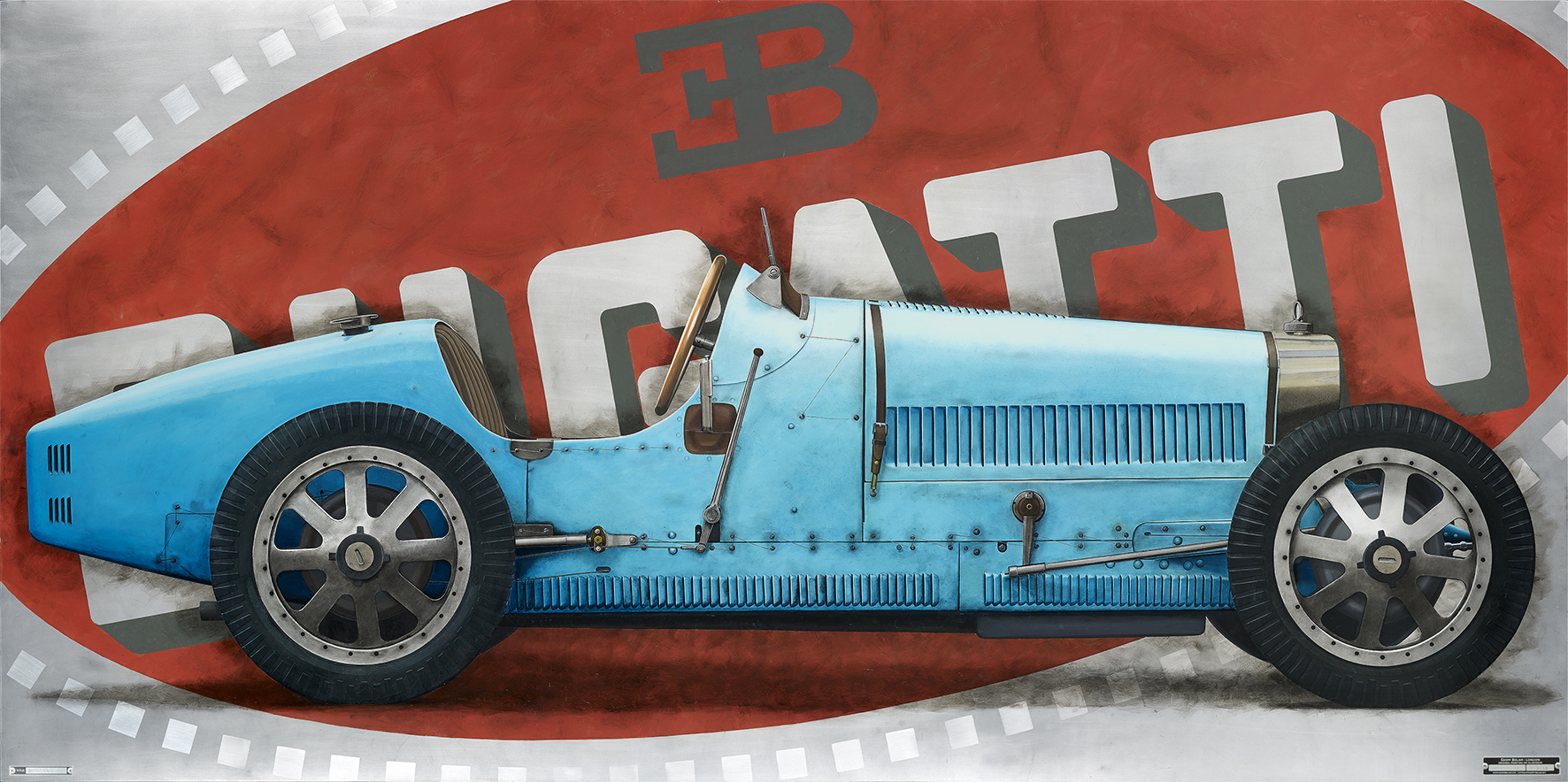 Original Painting
The painting features a Bugatti type 35A rich with the patina of age and racing.
Its painted in exquisite detail with Oils onto a specially fabricated Aluminium panel and is quite large at 78 x 39 x 2in.
The areas representing the wheels and other metal parts are bare Aluminium which has been etched to a matt finish then painted with tints and glazes to create the shapes and patina.
The background and Bugatti lettering are also bare aluminium that's been sanded and wire brushed to created different finishes.
The artwork is signed, dated and titled on a specially made plates.
Price £9450
Limited Edition of 75 Prints
These are produced using an ultra-fine inkjet printing process onto 3mm Aluminium faced composite.
A combination of 4 colour, transparent and white inks reproduce the painted areas and Aluminium finishes of the original printing with remarkable accuracy, and are very durable having an archival life of 70 years.
The prints are signed, numbered and titled on specially printed Aluminium plates, which are riveted to the front of the print.
The prints are frameless but a 25mm sub-frame is provided so it stands away from the wall and can easily be hung.
The standard size is 27 x 13 x 1in and priced at £400 + P&P
Special order prints
These can be produced at any size up to 118 x 59 in, here are a range of sizes and prices:
27 x 13in £400
35 x 17in £725
47 x 23in £1000
59 x 29in £1350
78 x 39in £1850
118 x 59in £3000
Colour matched prints
I can also change the Bugatt's bodywork to be colour matched to an owners car, price on request.
Commissions
Commission for portraits of owners cars, racing scenes or commercial illustrations are welcome.
The dollar price is subject to exchange rate and I use a specialist company for packing and delivery to the US, price on request.
-------------------
Geoff Bolam Fine Art
6 Derehams Avenue
Loudwater
Bucks HP10 9RN
United Kingdom
T: +44(0)7775 567744
E:
geoff@geoffbolam.com
www.geoffbolam.com
--------------------