Pur Sang - A Publication of the American Bugatti Club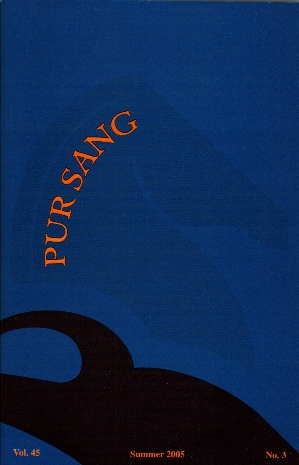 Pur Sang is a quarterly publication of the American Bugatti Club. It contains technical articles, Bugatti historical information, book reviews, current and future events, and articles of recent activities including races, rallies and gatherings. It has been published for over 50 years and reprints and back issues are available for sale.
If you have an article that might be of interest to our members, please contact the editor:

Tom Clifford
American Bugatti Club
59 Wilkins Rd
Holliston, MA 01746
USA
508-429-5485
tclifford2072@gmail.com
Pur Sang Back Issues
Back issues of Pur Sang are available from the Archival Custodian at $10.00 each.
Tom Clifford
59 Wilkins Rd, Holliston, MA 01746, USA
508-429-5485
Make checks payable to 'American Bugatti Club'
| | | |
| --- | --- | --- |
| | Volume | Issues |
| Reprints | | |
| | 1 | 1-2 |
| | 2-5 | 1-4 |
| | 13 | 2 |
| Originals | | |
| | 9 | 3-4 |
| | 10 | 1,3,4 |
| | 11-12 | 1-4 |
| | 13 | 1,3,4 |
| | 14 | 1-4 |
| | 15 | 1,2,4 |
| | 16 | 1-4 |
| | 17 | 1,3,4 |
| | 18 | 1,2 |
| | 19 | 1-3 |
| | 20 | 1 |
| | 21 | 1,2,4 |
| | 22 | 1,3 |
| | 23 | Complete to date |
Bulk discounts are available:
Set of 18 reprints of Vols. 1-5 $130
Vols. 9 and higher

10-19 issues 10% discount
20 or more issues 20% discount