American Bugatti Club Background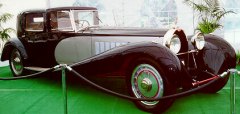 The American Bugatti Club was founded in California in 1960 for the purpose of encouraging interest in Bugattis and providing a network in the United States for members to learn more about each other and their cars.
The club encourages members to gather at events, share experiences and enjoy using their Bugattis in races, hill climbs, and rallies throughout the United States.
A Register of all Bugattis known to exist in North America is maintained and published. Revisions are produced and printed each year in order to keep interested parties up to date.

A quarterly magazine Pur Sang is published by the club for all members.
The History of the ABC
The American Bugatti Club was founded in 1960 by a small group of Bugatti owners from Southern California. During the late 1950's several California enthusiasts began to import Bugattis in increasing numbers. In 1958, a local group of owners organized a picnic in Arroyo Seco Park in South Pasadena and seventeen Bugattis attended. Another picnic was then held at Fred Treat's estate and interest in forming a Bugatti Club, to promote the use of Bugattis and help other Bugatti owners around the country restore and maintain their cars, was building. On February 10, 1960, a meeting was held to select officers, set the dues and finalize the name; the American Bugatti Club was formed.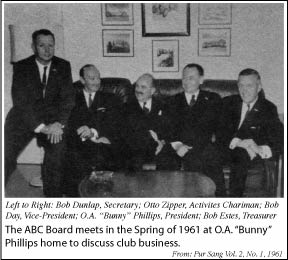 The first president was Overton Axton "Bunny" Phillips; a man who bought his first Bugatti, a Type 30, in 1927. Bunny Entered his T35B for Indianapolis in 1936 (he did not qualify) and opened a Bugatti repair shop in Rosemead, CA in 1951. He was joined by Bob Estes, a successful Los Angeles automobile dealer, as Treasurer, Bob Day as Vice President and Bob Dunlap as Secretary. Bob Hammel became the first Editor of the Club magazine, which was to be called Pur Sang.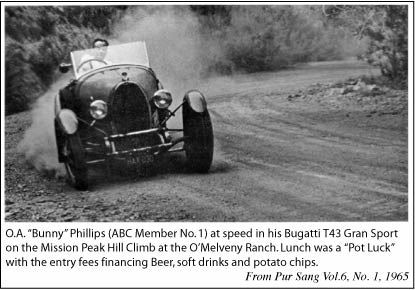 By 1961 the Club had expanded to over sixty members, representing twelve states with a growing number of members from the Midwest and the East coast. The first Pur Sang was published in the fall of 1960 and its purpose was to let the ever-growing group of owners learn about each other by publishing the story of their cars and describing the events they participated in.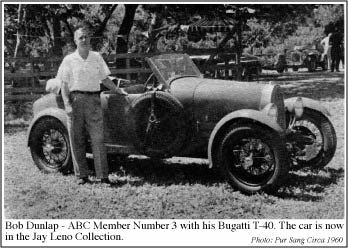 The club has grown over the years and is now up to 380 members, 80 of whom are from overseas. In the mid 1990's the club opened up to Bugatti enthusiasts as well as owners.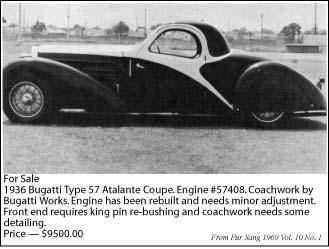 Our goals today are the same as they were in 1960; to promote the use of Bugattis, record their history, restore them sympathetically and to keep them running for everyone to enjoy.